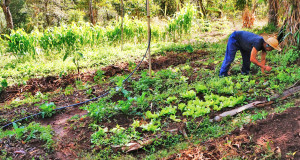 Volunteers are an important part of the team here at Vrinda Bhumi. Through the hard work of our volunteers and the team we have a beautiful organic farm where we can live a peaceful and simpler way of life.
Volunteering can make a real difference to your own life and the lives of those around you. You can use your skills and experiences to help and enrich the local community. Here at Vrinda Bhumi there is so much to do in order for you to learn and help us improve our services.
In our eco-conscious community, you will learn about meditation, vegetarian cooking, organic agriculture, bio construction and Vedic philosophy. We welcome all those people who want to expand their awareness. Volunteers will stay in either a bio-constructed cabin.
Please if you want more information visit: http://vrindabhumi.com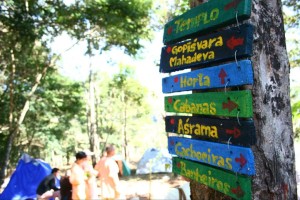 In our website vrindabhumi.com/aboutus/howtoarrive you will also find descriptions in Spanish and Portuguese. Below is How to Arrive from São Paulo but there are also How to Arrive from Rio de Janeiro and Belo Horizonte in the web.
If you are arriving to Brazil by plane, it is best to is to fly into Guarulhos International Airport (GRU) in São Paulo.
Take the "Airport Bus Service" to the nearest subway station (please ask the bus driver when you get on the bus to let you know where to get off) "Preciso parar no ponto mais próximo da estação do metro"
Once you are at the subway station you need to go to the Tietê Station. It is called RODOVIÁRIA TIETÊ – Tietê Bus Terminal. (Subway tickets will be about $2.00 (two dollars).
–> Rodoviária Tietê you need to catch a bus to Caxambu.
From Monday to Friday, there is a bus leaving Rodoviária Tietê to Caxambu at 7h00 a.m.
The bus will arrive to Caxambu at 2h00 p.m. At the Caxambu bus station, you must take another bus to Baependi. The ticket will cost around $2.00(two dollars)
–> Once you arrive to Baependi you should immediately go to Bar do Ponto to take the bus that goes to Piracicaba; there is only one bus and it leaves at 3:00 p.m (Monday-Friday (except Wednesday)). Click here to see map The bus cost is around $ 5.00 (five dollars).
IMPORTANT!: Actually  there is no bus from Baependi to Piracicaba on Wednesday, Saturday or Sunday.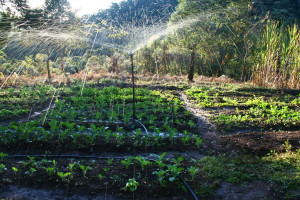 7h30 am Yoga
8h30 am Breakfast
10h00 am Selected work activity
1h00 pm Lunch
2h00 pm Hiking to one of the waterfalls
5h00 pm Dinner
6h00 pm Free time
Amongt the work activities that volunteers can engage in are: vegetarian cooking, organic gardening, bio-construction and various other creative activities (painting, decorating, etc)
Write us: vrindabhumi@gmail.com

If you are staying less than two weeks $15 USD (R$30) per day ; $12 USD (R$24) per day if your stay length is between two weeks and one month; $10 USD (R$20) per day if you are staying longer than a month