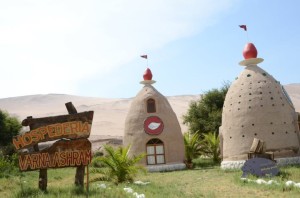 Dear Volunteer!
We invite you to visit the Eco Truly Arica, an Ecological Community, which is located in Lluta's Valley, located forty kilometers away from Arica city.
The architecture and the lifestyle of our community are based on the Vedic Culture of India, because of this, this community is also a Yoga Monastery where values, ecological and spiritual principles are practiced.
This experience will give you a new vision of what our program is.
From the city of Arica is easy and safed to reach the farm.
You have different options:
1. At Chacabuco Street with Mackenna take a micro (bus) straight to Poconchile. It costs 900 Chilean pesos ($ 1.50) with a duration of 60 minutes away.
2. At the same terminal can take a bus (multi-passenger car) for 2500-3000 Chilean pesos ($ 4-6) directly to the farm.
3. Take a taxi directly from Arica to the farm.
In any case, ask the driver to leave you in the farm 'of Trulys', 3 km from Poconchile.
For more information please contact us via mail (ecotrulyarica@ecoyogavillages.org) or by telephone: 0056 + 9 + 41388369
You can volunteer in these areas:
-Gardening
-Vegetarian cooking
-One day at week of art in "Sattva"
If you require further information, please do not hesitate to write to us at: ecotrulyarica@ecoyogavillages.org
Private room: 14USD
Shared room: 10 USD
Tent: 8USD
This includes:
• 3 lacto-vegetarian meals daily
• houseing in shared rooms or seperated by gender or a private room in a truly construction
• possibility to camp