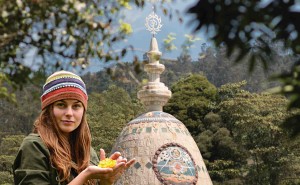 We are a community of people of different ages practicing Bhakti Yoga of the millennial Vedic culture. We maintain a holistic lifestyle, respect and harmony with the environment; In a spiritual and friendly atmosphere. We have several sustainable spaces where we produce part of the food we consume and we develop programs to protect nature and animals. We are also developing Eco-Constructions programs such as the largest Planetary Yoga in Latin America.
Our ideal is to share, with people of all ages and ideologies, these full, harmonious, sustainable and high spiritual values, showing a practical and successful alternative life to the current consumer system. In addition, we are part of an International Network of Eco Villages, with which we work for the same ideal. We have hatha yoga and meditation centres, vegetarian / vegan restaurants and eco villages in more than 25 countries in the world, two of them in India's most prominent places.
Varsana Eco Yoga Village is less than an hour from Bogota with easy access by bus or car.
By bus: From any of the main bus terminals in Bogota to Granada Cundinamarca. * Note that there is a second Granada (Meta), which is further away, and is not the right city! *
At present this should cost less than $ 10,000 COP. The trip should take less than an hour. Ask the driver to stop at Varsana Eco Village or in front of the entrance to Granada. They should leave you near the BIOMAX gas station.
You can contact us writing to: voluntariadovarsana@gmail.com
We have an office in the city of Bogota that allows us to connect people who want to visit us. Business and school tours for groups: we have the adequate spaces to carry out the activities of you program, our facilities are prepared to host the groups that visit us, so that your stay is calm and pleasant.
Contact us: voluntariadoyhospedaje@varsana.co
Volunteers work 4 ½ hours in the morning in Organic Crops, Eco Constructions, Eco Tourism, helping in the Vegetarian / Vegan Restaurant, gardening, art, filming, teaching in our rural school (in case of extended stays), teaching English to members of the community, etc.
In the afternoon you can participate in activities of the Eco Village: Hatha Yoga and relaxation, Meditation with Tibetan bowls, Musician-therapy with oriental instruments, Pranayama workshop, Ecological walks, Cinema on giant screen, etc. Throughout the year, volunteers of all ages and from all over the world come to Varsana to discover their skills, get in touch with Mother Earth, and help us improve our community, learn languages ​and enjoy an attractive experience in an environment Natural.
** After 2 months in the volunteer program, if you and the Eco Village members feel comfortable with each other, you can remain as a resident or part of the staff by supporting the development of the park activities at no charge. In Varsana, you as a volunteer can learn to: Cook, Meditate and practice Yoga, Protect water sources, clean channels, etc. Cultivate without chemicals Paint in art therapy Support local social and educational work, Dance sacred songs, Work on Bio-construction, Work Eco-construction, Support indigenous and peasant communities, Painting and carving in stone, Performing music, Participating in the exchange of Knowledge, Know the Eco-Yoga Village sector, participate in civic activism **
The volunteer program has a cost of $ 25,000 Colombian pesos per day (1 to 3 days), $ 20,000 (from 4 to 15 days) $ 16,000 (from 16 days onwards). This includes accommodation, full meals and activities. Check special price in cases of prolonged stay. Payment is possible in $ col or USD, taking into account the current exchange value.
Please if you require more information write to us: voluntariadovarsana@gmail.com
Varsana Eco Yoga Village also functions as Yoga Asram (Yoga School). There are daily classes of Hatha Yoga (which allow you to harmonize mind, body and spirit), Meditation (to connect with your inner being) and Oriental Philosophy workshops. Participation in any of the programs is voluntary.
This is an experience of Ashram (monastic life). For this reason, there are some agreements of coexistence to which we commit when coming to Varsana and to those that we ask that you also commit yourself, please read carefully the following agreements:
I. There are 4 good practices that we ask you to follow during your stay:
1. DEDICATE YOUR TIME TO TALK OR ASK ABOUT THEMES THAT STRENGTHEN YOU SPIRITUALLY.
2. VARSANA IS A PLACE FOR MEDITATION, THEREFORE NO SEXUAL RELATIONSHIPS
3. DO NOT USE SUBSTANCES THAT CHANGE YOUR STATUS OF CONSCIOUSNESS AS MARIJUANA, CIGARETTES, COFFEE OR CHEMICAL SUBSTANCES
4. DO NOT BRING ON OR CONSUME ANY TYPE OF FOOD CONTAINING MEAT, FISH OR EGG, IF YOU WISH WE HAVE RESTAURANT SERVICE
II. Our Sadhana (spiritual practices) starts at 4 a.m., we ask you to be punctual.
III. Bring a change of clothes that you only use during meditation in the temple, make sure your clothes are loose.
IV. Please respect the service schedule, for us this meditation is very important.
V. The service activities are varied, depend on the needs of the eco-village and are assigned by the commander, we ask for collaboration and disposal.
VI. It is not possible to have pets inside the eco-village, they need spaces, care and a time that we do not have inside the Ashram.
VIII. We have estimated that for you to live an actual Ashram Life experience, the stay should be no less than 1 week.
IX. It is important that you comply with these agreements to ensure your stay in Varsana
X. Varsana's climate is similar to that of Bogotá, and the activities that are carried out are similar to those of any rural eco-village, it brings comfortable work clothes and if you want something extra to the blankets we give you here, you can bring sleeping or thermal blanket for the night.