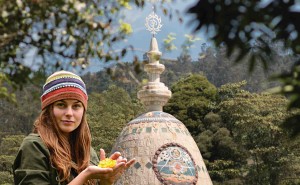 Our volunteer program is especially for those who want to experience the life of an Eco Village, engage in sustainable activities such as organic farming, Eco Building, Sustainable Tourism, Yoga Retreats, Oriental Art, etc. At the same time, experience the tranquility and harmony that provide practice Hatha Yoga and Meditation. It is also a good opportunity to meet people from around the world who constantly visit us, and exchange experiences.
**After two months in the volunteer program, if you and the members of the Eco Village are comfortable with each other, you can stay in character sfaff resident or part of supporting the development of the activities of the free park. In Varsana, you can learn how to volunteer: Cooking, meditate and practice Yoga, protect water sources, clean channels, etc. Grown without chemical Painting in art therapy support the local social and educational work, Dancing sacred songs, Work Bio-construction Eco-construction Work, Support indigenous and peasant communities, paint and carve in stone, play music, Participating exchange knowledge, know the field of Eco-Yoga Village, participate in civic activism**
Varsana Eco Yoga Farm is located less than an hour from Bogota and easily accessible by bus or by car.
By Bus: Take a bus from any of the main bus terminals in Bogota to Granada Cundinamarca.
*Beware that there is a second Granada (Meta) which is located farther, and is not the correct town!*
Currently this should cost you less than 10 mil COP.
The trip should take less than one hour. As your on the bus, tell the driver that you're going to Varsana Eco or Yoga Farm. They should let you off 500 m after the BIOMAX petrol station. You will see a sign on the right that says 'Varsana Yoga Monasterio'. This is directly in front of the road that turns to go to Granada.
You can contact us writing to: voluntariadovarsana@gmail.com
Volunteers work 4½ hours in the morning on Organic Farming, Eco Building, Eco Tourism, helping the Vegetarian / Vegan Restaurant, gardening, art, filming, teaching in our rural school (in case of longer stay), teaching English to members community, etc. In the afternoon you can participate in the activities of the Eco Village: Hatha Yoga and relaxation, meditation with Tibetan bowls, music therapy with oriental instruments, Pranayama workshop, nature walks, film on a giant screen, etc. Throughout the year, volunteers of all ages and from all over the world come to Varsana to discover their skills, get in touch with Mother Earth, helping to improve our community, learn languages ​​and enjoy an engaging experience in an environment only natural.
Center Hatha Yoga and Meditation Center
Varsana Eco Yoga Yoga Village also functions as Asram (School of Yoga). Daily Hatha Yoga classes (allowing harmonize mind, body and spirit), meditation (to connect with your inner self) and workshops are taught Oriental Philosophy. Participation in any of the programs is voluntary.
The volunteer program has a cost of $ 25,000 Colombian pesos per day (1-3 days), $ 20,000 (from 4-15 days) $ 16,000 (16 days later). It includes lodging, meals and activities. Consult special price in case of prolonged stay. Payment is possible in $ col or usd, considering the current exchange value.
Please if you require more information write to us: voluntariadovarsana@gmail.com